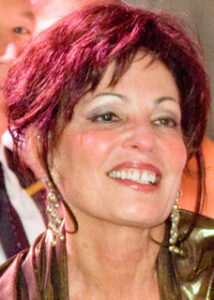 Judith Jacobson received her BFA in Painting from The Tyler School of Art in 1969, and
her MFA in Painting from The Pennsylvania Academy of the Fine Arts in 1997. She is the recipient of
The Leeway Foundation Edna Andrade Grant in
Painting
(catalogue), awarded for work that exhibits exceptional promise and talent. Judith's work was purchased by the founder of The Leeway Foundation and is part of the permanent and prominent collection. Judith also participated in panel discussions with other Leeway grant recipients at the Philadelphia Art Alliance. 
She has received numerous awards in Painting and Drawing. Her achievements have been extensive and positively reviewed 
by the media.
Judith has been a visiting artist at local colleges, giving presentations of her art and process, and then making
studio visits to critique the work 
of the students. She has also shared her ideas and work in many "Meet the Artist" discussions. 
Judith continuously donates her art to charitable organizations.
Judith has been in many solo and group exhibitions. Her work is included in collections throughout the United States, Canada and Europe.